Puppies

Our aim is to breed true to type, sound ridgebacks with great temperaments.
We invite you to meet us and our dogs by appointment. We encourage you to meet any breeder you are in touch with. We feel it is important to meet their dogs as your new puppy will be with you for many years to come. Of course some circumstances don't allow this to happen but it is good for you to build up a relationship with your breeder.
Please complete the questionnaire below if you would like to express an interest in future litters for a Koruridge puppy.
Our next litter has been carefully planned for September 2023.
The sire will be El Roy - C.I.B Multi Champion, Multi Club Winner, Grand Champion of Slovakia El Roy Arte Cassari (Slovakia)
If you would like to express an interest in this litter please click on the link below.
Click here for our puppy questionnaire.
Below is our Planned Litter for September 2023...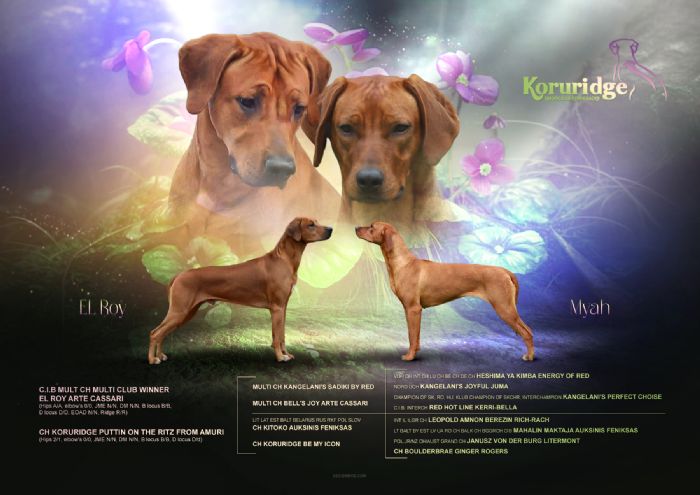 Below was our poster for Rio's last litter...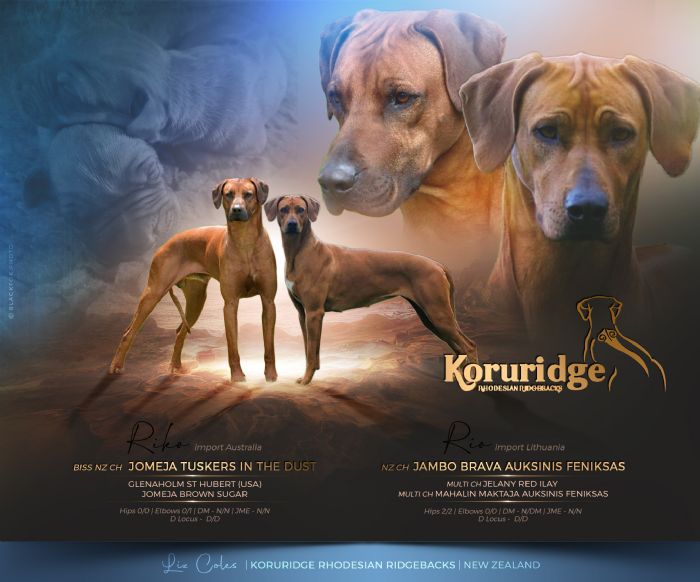 Below was our Avatar litter...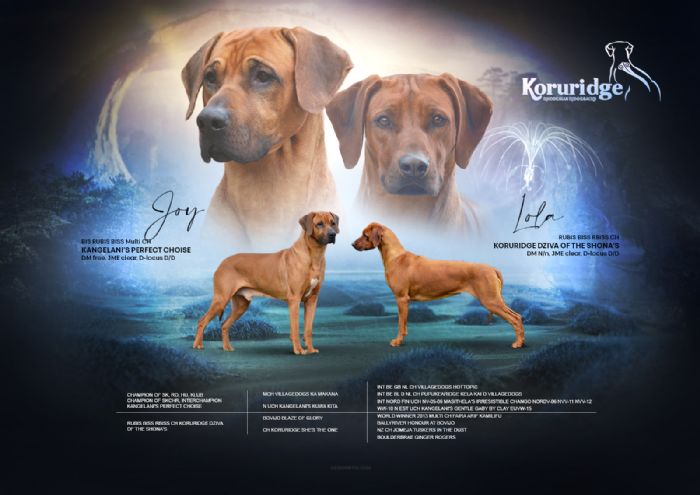 Below poster was our 2022 Litter, a combination of some great African, European, NZ and Australian lines.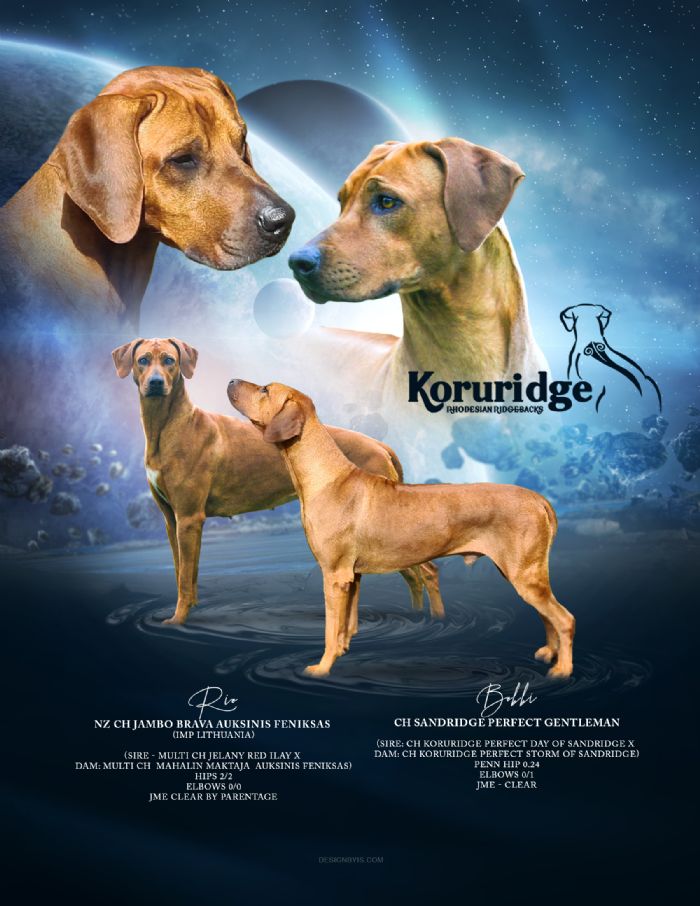 Pedigree of Bobbi & Rio below....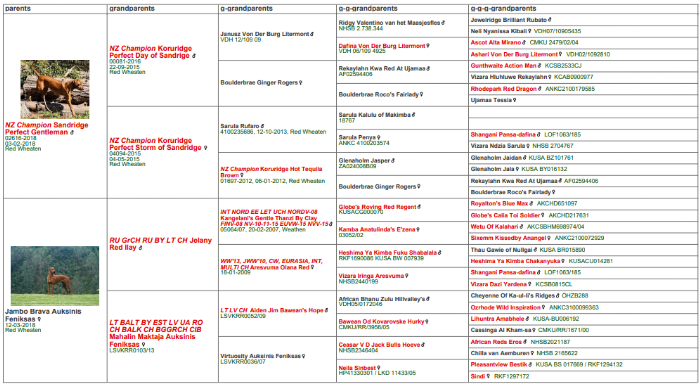 Below litter poster from May 2019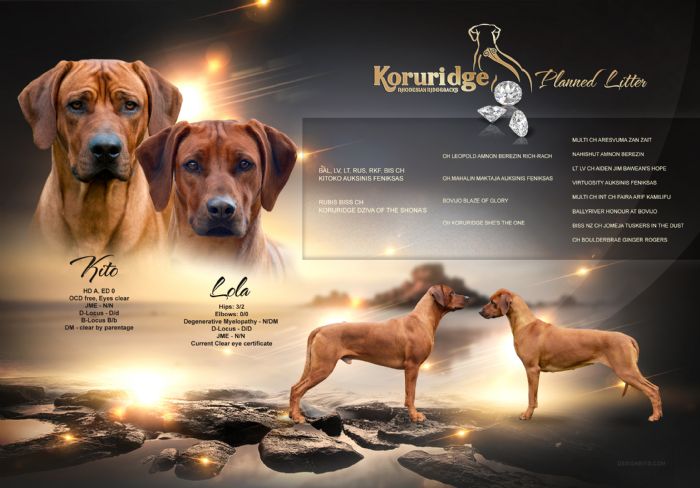 POSTER BELOW IS A LITTER DUE MAY 2018 IN THE USA...........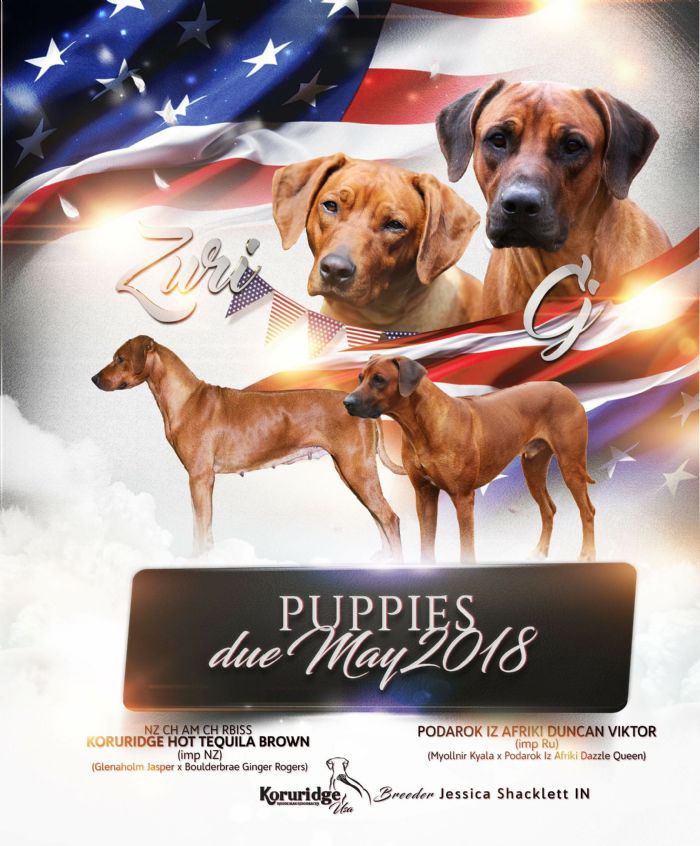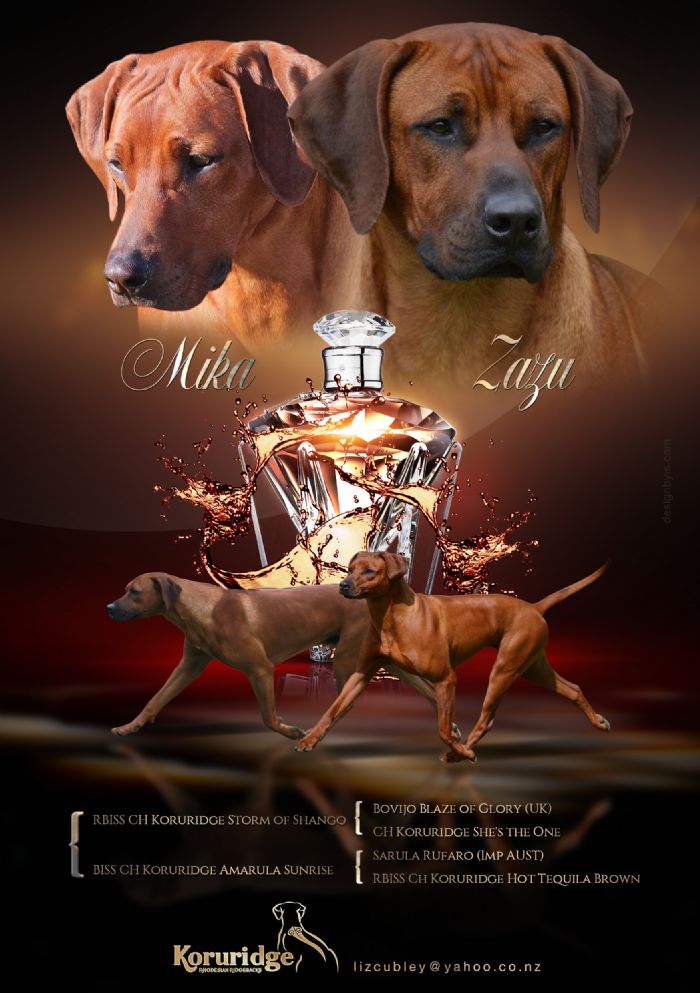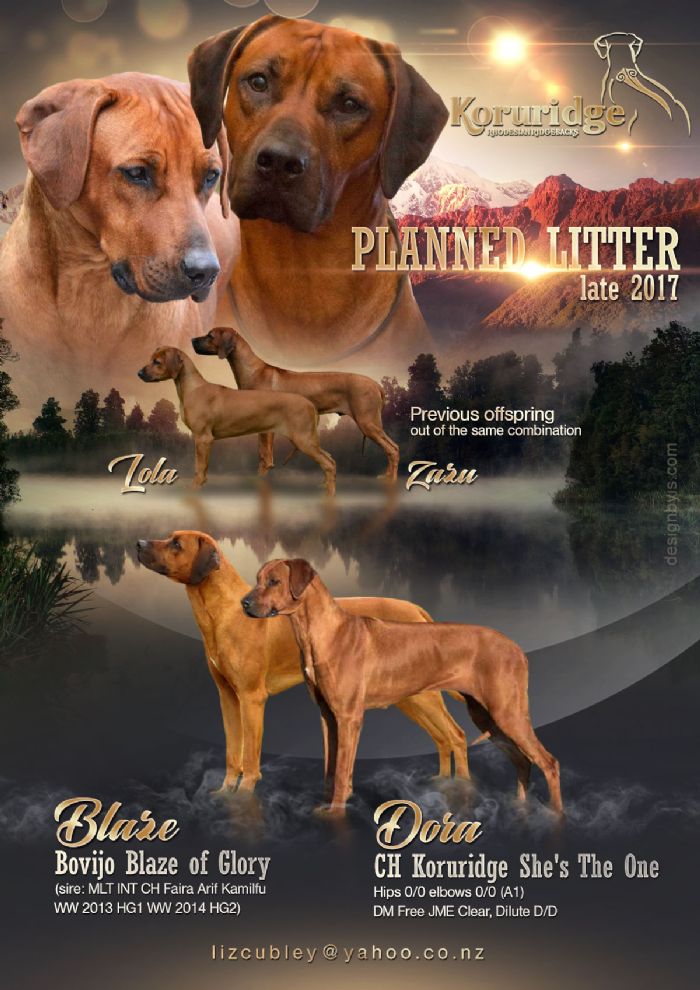 19 sept 2016: The babies have arrived safe and sound!
12 bundles of joy 5 Boys, 7 Girls all correct, no kinked tails, no DS detected, no excess white, and a lovely suprise we have 4 brown nose babies!
Both Carol Torr the breeder of 'Blaze' and I are thrilled :-)
HAPPY DANCE!
DORA IS HAVING BABIES!........Puppies due Septemeber 2016 :-)

The frozen goodies have arrived!!
Now we just wait for 'Dora' to come in to season :-)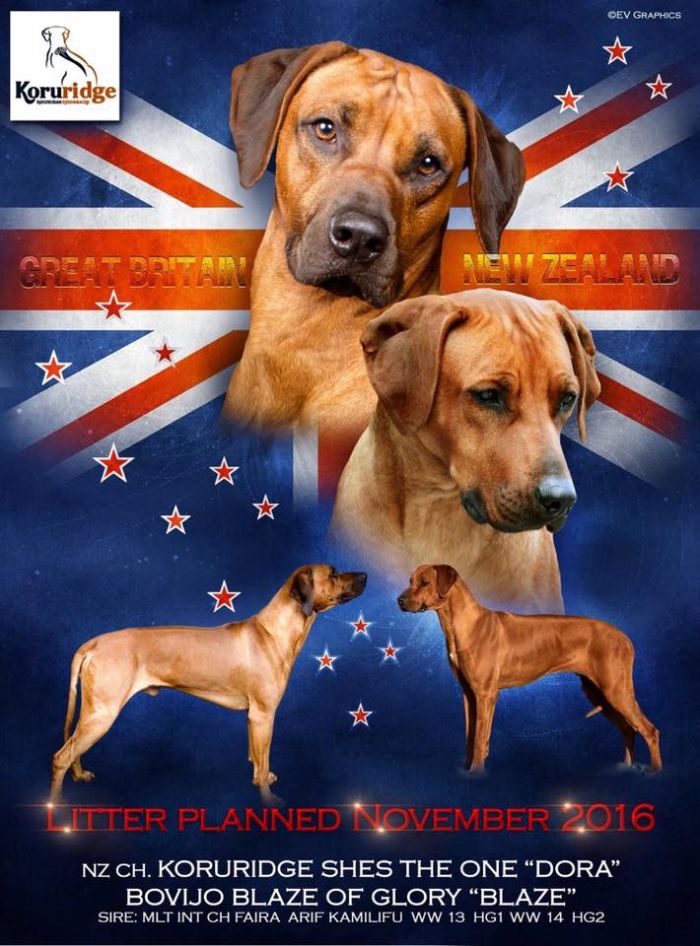 Exciting news! My next litter is planned for late Winter early Spring 2016. New blood lines will be coming to NZ! WATCH THIS SPACE ;-)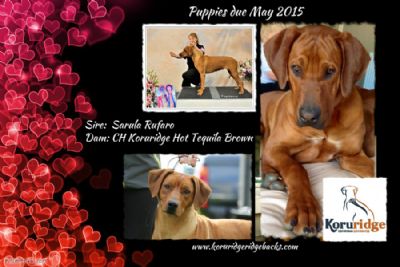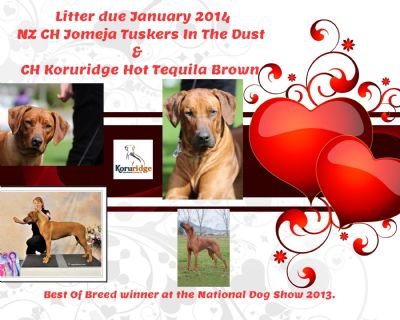 7 AUGUST 2013.............THE BABIES HAVE ARRIVED!!..... See Litter 2 Gallery for photos.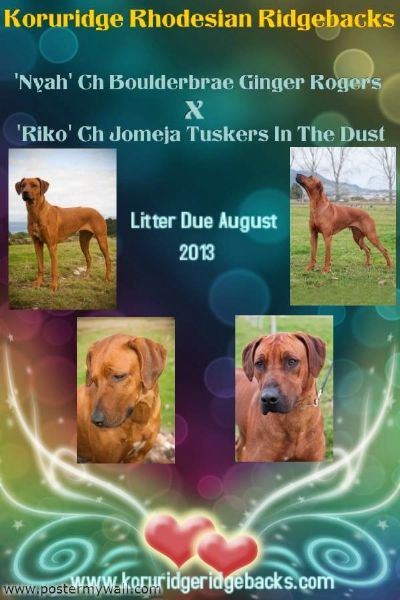 ****WE ARE HAVING PUPPIES**** It has been confirmed by ultrasound.......due August 2013. Parents are:
'Nyah' CH Boulderbrae Ginger Rogers X 'Riko' CH Jomeja Tuskers In The Dust





6/1/2012
****THEY HAVE ARRIVED****
9 beautiful babies born
Both 'Nyah' and pups are all doing very well.
Well done my girl.
Email or use contact form for enquiries on this lovely litter.
****EXPECTED LITTER DUE EARLY JANUARY 2012****
Koruridge is excited to announce the litter between
Dam - Boulderbrae Ginger Rogers
X
Sire - Glehaholm Jasper
'Jasper' is from the World renown Ridgeback Kennel, 'Glenaholm' in South Africa.
He is the son of Glenaholm Jaidan and Glenaholm Jala.
Contact Details
Liz & Tivon Coles
Tauranga, NZ
Phone : 021 2505487
Email :
[email protected]