Sarula Rufaro
"Faro"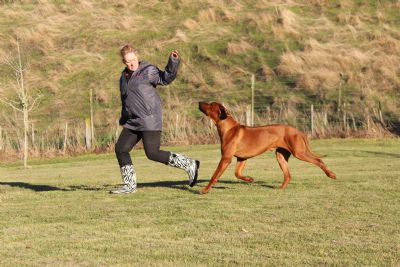 'Faro' was a very lovable boy. He was my gentle teddy bear.
I didn't put him out there in the show ring as it doesn't seem to be his thing he would rather stay at home than be in the ring.

He was bred by breed specialist judge Linda Costa (Sarula Rhodesian Ridgebacks)

Hips 0/0 Elbows 0/0
JME - Clear
Degenerative Myelopathy - Clear (non carrier)
Dilute (blue) - (non carrier)
Available at stud to approved bitches.
Frozen semen stored.
Pedigree

| | |
| --- | --- |
| Breed : Rhodesian Ridgeback | Bred by : Linda Costa |
| Sex : Dog | Owned by : Liz Coles (Koruridge Kennels) |
| Date of Birth : 12-Oct-13 | Handled by : Liz Coles |
| Call Name : Faro | Available for stud : Yes. (to approved bitches) |

Sire : Sarula Kalulu of Makimba (imp ZWE)
S: Isilwane (ZWE)
S: Zim CH Lionhill Merryman Of Umvutcha (ZWE)
D: Dutchy (ZWE)
D: Zim CH Sarula Gukatiwa (imp ZWE)
S: Zim CH Rustig Mooketsi Of Sarula (imp ZWE)
D: Zim CH Mushana Ranzi Of Sarula (ZWE)
Dam : Sarula Penya
S: Swiss CH INT CH ITL CH GER CH SPA CH Shangani Pansa-Dafina (FRA)
S: Lux CH FRN CH INT CH ITL CH SPA CH Umvutcha Matopo (ZWE)
D: EUR CH INT CH GER CH EUR CH Sarula Chikadzi (DEU)
D: Vizara Ndiza Sarula (imp NDL)
S: Swiss CH INT CH ASTN CH CRO CH SVK CH GER CH VDH CH Pronkberg Makari (ZAF)
D: Vizara Likoma Lechaim (NDL)
Results
19-Nov-16

Best of Breed, Dog CC, Open of Breed


Franklin Kennel Association (Champ Show)

24-Jan-16

Dog CC, Open of Breed


Nelson District Kennel Association (SHOW 3) (Champ Show)

23-Jan-16

Dog CC, Open of Breed


Nelson District Kennel Association (SHOW 1) (Champ Show)

23-Jan-16

Dog CC, Open of Breed


Nelson District Kennel Association (SHOW 2) (Champ Show)

8-Nov-15

Res Dog CC, Intermediate of Breed


Poverty Bay Kennel Association (Champ Show)

7-Nov-15

Intermediate of Breed


Poverty Bay Kennel Association (Champ Show)

26-Oct-15

Res Dog CC, Open of Breed


Tauranga Kennel Association (RED SHOW 1) (Champ Show)

26-Oct-15

Res Dog CC, Open of Breed


Tauranga Kennel Association (BLUE SHOW 2) (Champ Show)

6-Sep-15

Open of Breed


Huntly & District Kennel Association (Champ Show)

6-Sep-15

Res Dog CC, Open of Breed


The Hound Club of Auckland (Champ Show)

30-Aug-15

Res Dog CC, Open of Breed


Rotorua Kennel Association (Champ Show)

29-Aug-15

R/Up Best of Breed, Res Dog CC, Open of Breed


Rotorua Kennel Association (Champ Show)

4-Jul-15

Junior of Breed


Hutt Valley Kennel Centre (PM SHOW) (Champ Show)

4-Jul-15

Junior Dog


Hutt Valley Kennel Centre (AM SHOW) (Champ Show)

30-Mar-14

Baby of Breed


Napier Kennel Centre (Show 2) (Champ Show)

30-Mar-14

Baby of Breed


Napier Kennel Centre (Show 1) (Champ Show)

29-Mar-14

Baby of Breed


Wairoa Kennel Association (Show 1) (Champ Show)

29-Mar-14

Baby of Breed


Wairoa Kennel Association (Show 2) (Champ Show)

8-Mar-14

Baby of Breed


The Hound Club of Auckland (Champ Show)

8-Mar-14

Baby of Breed


Hamilton Kennel Association (Champ Show)

9-Feb-14

Baby of Breed


Tokoroa Canine Association (Champ Show)

Contact Details
Liz & Tivon Coles
Tauranga, NZ
Phone : 021 2505487
Email :
[email protected]