BISS NZ CH Jomeja Tuskers In The Dust
"Riko"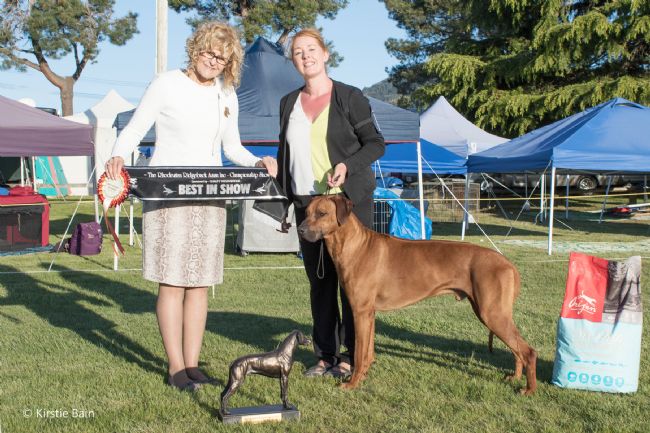 'Riko' is a very loveable boy with the nicest temperament.
I imported him from Australia from Ridgeback breeder, Specialty & All breeds judge Patrice Johansen of Jomeja Hounds (QLD).

He has been a great asset to my breeding program producing lovely puppies for the show ring and pets.

He did me extremely proud when we won BEST IN SHOW at The Rhodesian Ridgeback Specialty October 2015 under Breed Specialty Judge Anna Lane (Etosha Ridgebacks VIC).

'Riko' has won ribbons for Best Of Group & age classes.

Hips 0/0 Elbows 0/1
Degenerative Myelopathy - Clear (non carrier)
Dilute (blue) - (non carrier)
JME - N/N (Clear)
B Locus B/b - carries Liver
Available at stud to approved bitches.
Frozen semen stored.
Pedigree

| | |
| --- | --- |
| Breed : Rhodesian Ridgeback | Bred by : Patrice Johansen |
| Sex : Dog | Owned by : Liz Coles (Koruridge Kennels) |
| Date of Birth : 16-Sep-11 | Handled by : Liz Coles |
| Call Name : Riko | Available for stud : Yes. (to approved bitches) |

Sire : Glenaholm St Hubert (USA)
S: Glenaholm Asa Backup (USA)
S: Glenaholm somethin Radiant (USA)
D: Glenaholm Jahzara Kabusha (ZAF)
D: Glenaholm Whata Charmer (USA)
S: AM CH Nomvuyo Riff-Raffs Lobo (ZAF)
D: Glenaholm Jesting Jewel (ZAF)
Dam : Jomeja Brown Sugar
S: Jomeja Tale Of The Cat (AI)
S: DAN CH, NORD CH, LUX CH, INT CH Ukukhanya Scout The Red Baron (USA)
D: Jomeja Make Mine Red
D: Jomeja Tomb Raidar
S: AUST CH, AM CH Camelots Code Red (Imp USA)
D: Kargnieulan Montana (AI)
Results
5-Mar-17

Res Dog CC, Open of Breed


The Hound Club of Auckland (Champ Show)

5-Mar-17

Open Dog


Hamilton Kennel Association (Champ Show)

29-Oct-16

R/Up Best of Breed, Dog CC, Open of Breed


Taupo Kennel Association (BENEFIT SHOW) (Champ Show)

28-Sep-16

Res Dog CC


South Island Hound Club (Champ Show)

14-Aug-16

Res Dog CC, Open of Breed


Ladies Kennel Association (SHOW 1) (Champ Show)

7-Feb-16

R/Up Best of Breed, Res Dog CC, Open of Breed


Tokoroa Canine Association (Champ Show)

31-Jan-16

Res Dog CC, Open of Breed


Auckland Exhibition Centre (SHOW 1) (Champ Show)

31-Jan-16

R/Up Best of Breed, Dog CC, Open of Breed


Auckland Exhibition Centre (SHOW 2) (Champ Show)

14-Nov-15

Best in Group, Best of Breed, Dog CC, Open in Group


Wairapa Kennel Association (AM SHOW) (Champ Show)

31-Oct-15

Best in Show, Best of Breed, Dog CC, Open in Show


The Rhodesian Ridgeback Association (Champ Show)

13-Jul-14

R/Up Best of Breed, Dog CC, Open of Breed


Kumea Kennel Association (Show 1) (Champ Show)

13-Jul-14

Best of Breed, Dog CC, Open of Breed


Kumea Kennel Association (Show 2) (Champ Show)

29-Jun-14

Open of Breed


Hauraki Canine Association (Show 1) (Champ Show)

29-Jun-14

Open of Breed


Hauraki Canine Association (Show 2) (Champ Show)

30-Mar-14

Intermediate of Breed


Napier Kennel Centre (Show 2) (Champ Show)

30-Mar-14

R/Up Best of Breed, Intermediate of Breed


Napier Kennel Centre (Show 1) (Champ Show)

29-Mar-14

Intermediate in Group


Wairoa Kennel Association (Show 1) (Champ Show)

8-Mar-14

Intermediate of Breed


The Hound Club of Auckland (Champ Show)

2-Mar-14

R/Up Best of Breed, Intermediate of Breed


East Coast Hound Association (Champ Show)

9-Feb-14

Intermediate of Breed


Tokoroa Canine Association (Champ Show)

1-Feb-14

Best of Breed, Dog CC, Intermediate of Breed


Hibuscus Coast Kennel Association (Show 2) (Champ Show)

8-Dec-13

R/Up Best of Breed, Intermediate of Breed


East Coast Ladies Kennel Association (Champ Show)

3-Nov-13

R/Up Best of Breed, Dog CC, Intermediate of Breed


Taupo Kennel Association (Champ Show)

2-Nov-13

R/Up Best of Breed, Dog CC, Intermediate of Breed


Taupo Kennel Association (Champ Show)

5-Oct-13

Dog CC, Intermediate of Breed


Eukanuba National Dog Show (Champ Show)

31-Aug-13

R/Up Best in Group, Best of Breed, Dog CC, Open of Breed


Rotorua Kennel Association (Champ Show)

31-Mar-13

Best of Breed, Dog CC, Open of Breed


Auckland Kennel Council (AM Show) (Champ Show)

31-Mar-13

Best of Breed, Dog CC, Open of Breed


Auckland Kennel Council (PM Show) (Champ Show)

9-Mar-13

Best of Breed, Dog CC, Open of Breed


Hamilton Kennel Association (Champ Show)

9-Mar-13

R/Up Best of Breed, Dog CC


The Hound Club of Auckland (Champ Show)

17-Feb-13

R/Up Best of Breed


Horowhenua Kennel Association (Champ Show)

16-Feb-13

R/Up Best of Breed, Open of Breed


Wellington Hound Association (Champ Show)

10-Feb-13

Best of Breed, Dog CC, Junior of Breed


Tokoroa Canine Associoation (Champ Show)

9-Feb-13

Best of Breed, Dog CC, Junior of Breed


Tokoroa Canine Association (Champ Show)

Contact Details
Liz & Tivon Coles
Tauranga, NZ
Phone : 021 2505487
Email :
[email protected]